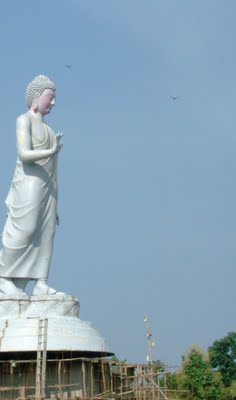 Lokamitra writes from India with news of the remarkable 'Big Buddha' statue currently being installed on the Nagaloka campus - and with an invitation to be part of it. He says -
"I'm writing from Pune in India, where late monsoon rains are beating down outside. Much of my time for the past weeks has been occupied with wonderful developments at Nagaloka, our training institute in Nagpur. We have received a great donation - a very large and beautiful walking Buddha, which is presently in the final stages of erection on the site. It will be a breath-taking centrepiece for the Nagaloka complex. Already, it is extraordinarily beautiful.
"The statue is made of brass and is 10.3 metres tall, with lotus and steps below, all placed on a 20-foot high base. Around this we are building a platform of 12 metres square, down from which there will be 9 steps, and at the bottom of these, a grassy mound, surrounded by a path, giving the whole mound including the central platform and steps a radius of 38 metres as indicated by the picture. The statue has been an enormous donation, from our old friend Ven Kuang Shin, and Wen Kwei Chan, the most well known sculptor in Taiwan.
"Now we are raising money from local Buddhists to finance the landscaping works. And we'd like to invite Western Dharma practitioners to be part of it too. We are hoping to raise £13,000 in India and would like to request the help of our friends in the West to try and raise the other £13,000 needed to complete the work.
"Specifically, we're appealing for donations of 150 pounds (or more). Anyone making such a donation will be able to dedicate their donation to anyone they choose, perhaps a loved one who has died, and have their dedication deposited in the statue or its base in perpetuity. It's an opportunity for you to contribute to a very special project, and - if you choose - to commemorate someone special.
To do this, please visit our webpage at
www.justgiving.com/nagalokabuddha
.

Meanwhile, the work goes on - a team of four engineers, led by Mr. Tung, came out from Taiwan on 18th August to set it up, and another team of four from Taiwan is at present painting the statue. There were many difficulties and hurdles! - some due to rain, some due to difficulties communicating the long distance between India and Taiwan, others because of the unfamiliarity of the materials and the unique challenge of the task.
The inauguration date is not yet finalised, but is expected to be in early December.
Labels: Arts, Fundraising, India, Nagpur