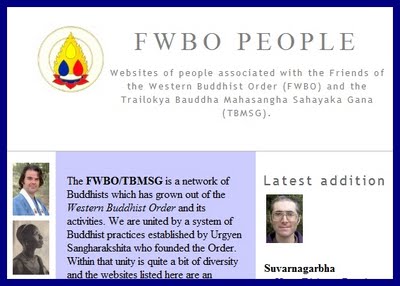 FWBO People
www.people.fwbo.org
is a 'portal' website dedicated to showcasing the talents and interests of some of the thousands of individual people who make the Friends of the Western Buddhist Order a living spiritual community.
Specifically, it lists their personal websites, blogs, photo collections and more. A significant number, especially members of the Western Buddhist Order, have also added personal 'profiles', giving short accounts of the spiritual journey that led them to join the Order.
The site has just chalked up its 199th member! That seemed a good opportunity to advertise the site and appeal for more members. All we'd ask is that you consider yourself a member of the FWBO - and you like to share your website with others in the Sangha.
To have your site listed, please email
people@fwbo.org
.
Labels: Order events, websites