Ujukarin, a Dutch Order Member who is a regular visitor to Sri Lanka, writes on behalf of his friend Prajnajit. He says -
"This fall 2, or even 3, reports for FWBO News are planned by me. But the one below is really from Prajnajit, I just acted as his scribe and he personally added material to the text and reviewed some things.
With the usual folded palms,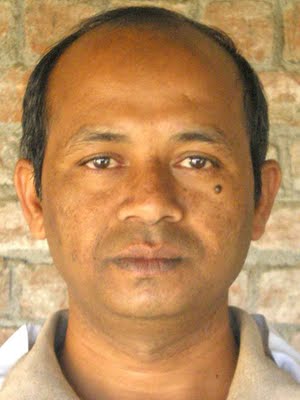 Prajnajit says -
"My name is Prajnajit, and I am a member of the Western Buddhist Order coming from Maharashtra in India. In my long involvement with TBMSG (as we call the FWBO in India) I have had several duties and developed various talents; the latest was publishing a poetry book in the Marathi language at this spring's Order Convention. At present my base is Goa, in southwest India, where I work for our Bahujan Hitay boys hostel and help in our small Dhamma centre there.
"But now, on the invitation of Saddhavira, I am on a new venture, helping out with our 'neighbours' of Sri Lanka. And I must rejoice in having encountered real teamwork and spiritual friendship with Saddhavira, working closely together for the last weeks. I have now completed my first month here, and will stay until late October; just today our friend Ujukarin has arrived and started helping for 10 packed days also.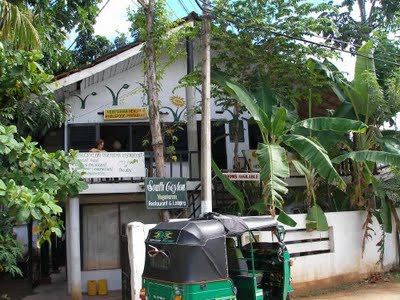 "My activities here have centred around our 2 bases: Unawatuna (on the south coast, shown in the photo opposite) and in the Colombo area. I've met many people, both existing mitras and friends and many others interested in hearing about Dhamma. Usually I tell them about India and my limited knowledge of Dhamma, and do puja with them and teach some mantras. Through these people and through some books I study the social system of Sri Lanka, which is both similar to and different from my own India.
"The situation also has this partial overlap: most friends and students in India are from lower classes (although the last 10 year we worked hard to get more and more exceptions to that rule); whilst here in Lanka I am meeting much more students and high-class Westernised intellectuals. But here too, I think people's knowledge of Buddhism is often too superficial and we need hard to practice. I am also thinking that if we offer education here (like we do in India), this social work might attract people and then bring them into more Dharma interest.
"I have now experienced village life also, because friends invited me to a village near Unawatuna; and yes, village life here is quite different from city life. Also I stayed for a few days in a Vihara in the cool hill country, with a few befriended Bhikkhus. I notice that people here are treating the Bhikkhus like in India the Hindu priests are treated!
"Next to the Tamil Kovil temples I also saw quite a few Hindu temples (Devalas) integrated with Buddhist temples; and it's especially terrible for me to see that in the temple of Buddha there are so many (Hindu) gods and goddesses depicted. People pray to them together with the Buddha; it seems that if there was no 'deva' image in a temple then we would offend the local Buddhist devotees!
"In September I will tour 3 cities in 4 days, together with Ujukarin and Saddhavira, and conduct some talks and day retreats, again broadening our impact on society and deepening my knowledge of it. And maybe (maybe!) there are chances of me returning later for a longer stay in this lovely country, now already I feel a closer cooperation coming between these two neighbouring Sanghas.
"Yours in the Dhamma, Prajnajit"
Labels: Dharmaduta, India, Sri Lanka