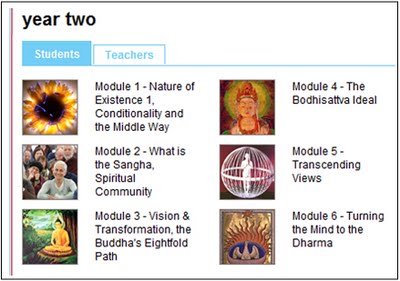 Candradasa writes from
FreeBuddhistAudio
with news of new on-line Dharma resources. He says -
Dear Friends,
We're delighted to let you know that - after a wee summer hiatus - we have a rush of new modules just posted for the FWBO's Dharma Training Course for Mitras. The permanent web address to bookmark for the new course is:
www.fwbomitracourse.com
.
Latest up are most of the modules for
Year 2
-
Module 1 - Nature of Existence 1, Conditionality and the Middle Way
Module 2 - What is the Sangha, Spiritual Community
Module 3 - Vision & Transformation, the Buddha's Eightfold Path
Module 4 - The Bodhisattva Ideal
Module 5 - Transcending Views
Module 6 - Turning the Mind to the Dharma
We hope you'll enjoy using the online version of the Course, and that you'll make steady progress in your own Dharma studies.
Year 3 coming soon!
with best wishes,
Candradasa,
The Free Buddhist Audio Team
ps. The new site has been developed to enable a free service to be kept in place for all users. To help us keep the service free, please
think about making a donation
. Many thanks!
Labels: Free Buddhist Audio, FWBO