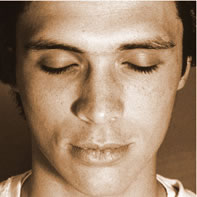 This weekend sees two gatherings of young Buddhists involved with the FWBO/TBMSG - but on opposite sides of the planet. Both are in response to a growing awareness that our Sangha has aged in the 40 years since the FWBO and TBMSG were founded.
In the UK's Peak District a record 37 people (plus Lokabandhu, no longer so young but needed as organiser and cook!) will come together to practice, strengthen friendships, and explore the possibility of setting up a network of young people's reps across the FWBO's centres in the UK and Europe.
In India there's a North India regional youth gathering at Bodh Gaya (site of the Buddha's Enlightenment) organised by NNBY, the
National Network of Buddhist Youth
, a self-organising network that came out of TBMSG's Dhammakranti project a couple of years ago. They say "In this gathering youth will develop their skills on Personality Development, English Education, the Right to Information Act, Mind Mapping and Social Awareness through the teachings of Lord Buddha and Dr. B.R. Ambedkar. Dh. Subhuti will be the main teacher". Hard on the heels of their event will be another, this time in Amaravati in Central India, and home to a thriving Buddhist Sangha.
For more information, check the
FWBO Young People's group on Facebook
- up to 180 members and counting; or the NNBY website.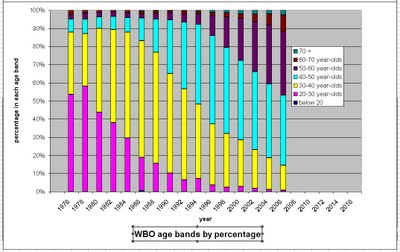 Buddhist Sanghas in the West generally seem to be experiencing the same issue - this year has seen the both UK's Network of Buddhist Organisations and the European Buddhist Union devoting their annual gatherings to this theme. The EBU's meeting was held last week at Taraloka, and was addressed by Lindsay Hannah, co-organiser of the coming weekend.
The chart shows how the age profile of the Western Buddhist Order has changed in the 40 years since it was founded. Pink bars represent the proportion of 20-30-year-olds; yellow 30-40-year-olds: both groups in rapid decline as a percentage of the whole!
Labels: India, Interbuddhist, UK, Youth