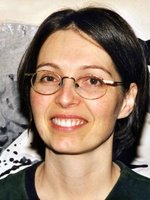 This year at the
Essen Buddhist Centre
in Germany four teenagers celebrated their ritual of leaving childhood. About 80 people attended the ceremony, which was probably the first time ever such a rite of passage for teenagers was held at an fwbo centre.
Jnanacandra (photo left) initiated and led the event and told FWBO News: "I believe that as a spiritual community it is important that we support each other at important junctions in life. There are several main transitions in a life-span, some of the more obvious ones being birth, coming of age and death. Traditional societies knew of their importance and usually had established means of celebrating them in order to help those transitions to happen as smoothly and skilfully as possible. Modern societies have often lost the awareness of their importance.
"In our Sangha we do have quite a number of families whose children have often attended families retreats and know each other. I felt it was important that at the age of 13/14 we offered them a way of acknowledging that something important was changing in them and in their relation to their parents. Something dramatic happens around that time in a person's life and I felt that in making it more explicit we could support those involved, i.e. the teenagers themselves and their parents, by stressing and ritually invoking the positive forces involved in the process of change."
"Of the seven teenagers aged 13 or 14 who were invited to take part four girls decided to have the ceremony. For three months before it they met weekly with Jnanacandra and explored issues around growing up: reflecting on their values in life, looking back at their childhood, exploring their relationship with their parents, as well as some outings like taking part in a first-aid-course and spending a morning at court.
"For the ceremony itself the girls were free to invite whoever they wanted, so we had grand-parents, wider family, peer friends and some friends from the Sangha. "We made it clear from the start that the ceremony was not strictly 'buddhist' i.e. they weren't commiting themselves to buddhism in any way, although the ceremony certainly reflected buddhist values." The ritual consisted of three parts which could be described as 'connectedness', 'letting go', and 'evoking strength'.
The first part of the ceremony, 'connectedness', was dedicated to looking back. After a brief reflection on their childhood the teenagers and their parents gave expression to their sense of connectedness, mutual respect and gratitude by bowing to each other and by exchanging a symbolic present representing what they particularly valued in each other. This emphasized the deep bond between them that formed the stable basis from which the young people could go out to find their own way in life.
The second part of the ceremony, 'letting go', focussed on the process of letting go of the child by her parents that necessarily happens around that age. It was symbolically enacted by one of the parents cutting off a curl of their daughter's hair. This was later to be thrown in streaming water. As they later confirmed, this had quite a strong emotional impact on some of the parents.
The third and final part of the ceremony, 'evoking strength' evoked the strength that the girls will need in order to venture into the turbulent years ahead of them. Holding a "power object" that they had previously chosen and 'charged', each of them listened to a beautiful Rejoicing in Merit by their elder sister, parent or grandparent. In this they were reminded of the many beautiful qualities that they have and that will help them through the bardo of adolescence that will take them to adulthood.
The ceremony was framed with live music by schoolmates of one of the girls and ended with the chanting of the blessings. After the formal part, there was coffee and cake and after that the families went off to continue their celebration at home. Many people voiced their appreciation of the event and expressed the hope that it may become a part of our culture across the FWBO.
Labels: Celebrations, festival, Germany, Youth