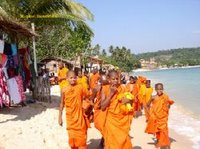 Saddhavira is a Sri Lankan born member of the Western Buddhist Order who runs a guest house and vegetarian restaurant on Unawatuna Beach
(right)
in Sri Lanka . The
very first story
for the FWBO & TBMSG News was to report on his ordination at Padmaloka in May 2005. His preceptor
Ashvajit
is a regular visitor to Sri Lanka.
Saddhavira has been running Dharma activities in Sri Lanka for many years now. He sayd "We have about 12 Mitras and 8 of them have asked for ordination. We have a regular class in Colombo and teach meditation for Western Travellers who come to the beach and our Sri Lankan friends in the new retreat Centre. Sri Lanka is very consevative. However, the English speaking young are open and most of our friends speak good English. We need more Western teachers."
After the
Tsunami
on Boxing Day 2004, Saddhavira had to rebuild his guest house. He is now also building a retreat centre.
Sagaraloka
- The Ocean Realm - will have facilities for about twenty people at a time, and Saddhavira hopes to attract westerners both to enjoy the natural beauty, but also to help teach the Dharma. He says "I plan to conduct light , short retreats for Sri Lankans". He also points out that
Unawatuna
beach in Sri Lanka is considered to be one of the 10 best beachs in the world! The building is nearly finished, but Saddhavira is running short of funds. If you could help in any capacity please contact Saddhavira:
Sagaraloka, C/o South Ceylon Lodging Unawatuna, Sri Lanka.
ph 0094912245863, 0094777105449 mobile
Email goonas[at]sltnet.lk
image - monks on Unawatuna beach