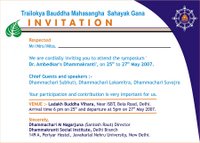 In India, the Dhammakranti team are starting their 2007 season with an ambitious event in Delhi.. Subhuti, Suvajra, and Lokamitra will all be participating in a seminar aiming to spread awareness of Dr. Ambedkar and his vision for a casteless society.
This is part of a determined strategy to spread our activities beyond the geographical borders of Maharastra, heartland of Buddhism in India and home to 60 million people – but a fragment of the whole of India. It is also part of their effort to highlight the abuse of fundamental human rights implicit in the widespread caste discrimination still practiced in India. See
http://atrocitynews.wordpress.com/
for some of their work.
In this respect we are delighted to note the recent comments made in the UK's
House of Commons
and
House of Lords
– both have recently seen debates in which members have strongly condemned the practice of casteism and the plight of the Dalits.
The event will be held on 25,26,27, May, 2007 at the Ladakh Buddhist Monastery - near ISBT, Bela Road , New Delhi, India. All are welcome and entry is by donation.
Labels: Delhi, Dharmaduta, India, TBMSG