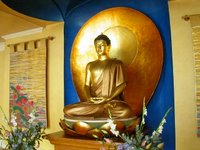 On Sunday 13th May 2007, Margaret Wilson became
Stavarha (sanskrit, with a long middle a), meaning "(She who is) worthy of praise".
Muditasri was the private preceptor and Mallika the public.
The private ordination took place on Friday evening at the LBC and was attended by order members. The public Ordination took place at the LBC on Sunday afternoon and was attended by around 70 people including Stavarha's partner and members of her family.
Sadhu!
from Parami on behalf of Mallika
Labels: Order events