A second FWBO/TBMSG centre has just opened in Kerala, south India. For some years Tejabhadra has been running a Buddhist centre in the capital city, Trivandrum (click
here
for details), he has now been joined by Binoj Babu and Dhammamitra Subhash. They are graduates of TBMSG's Nagarjuna Training Institute and have founded the Abhayaloka Trust which is running activities in the seaside town of Kollam, further up the Keralan coast.
Visitors are welcome, and are asked to contact Subhash by
email
or phone (tel 0091 99478 00803) before arrival - or simply to go to Mynagappally village and ask for the Divya Building.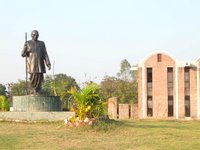 The Nagarjuna Training Institute is located in Nagpur on TBMSG's Nagaloka site. The program is now in its fourth year and has begun to produce a stream of talented and energetic graduates, of both genders, from all over India; many have returned home and are working to spread the Dhamma in their local areas.
Next month will see a major retreat in Bodh Gaya (estimated attendance 3,000 people) followed by Subhuti's annual Dhamma tour, this time in North India, organised as always by NTI graduates. This work is especially significant in that it represents the beginning of the Buddhist renaissance in India 'breaking out' of Maharastra and Dr. Ambedkar's own community and beginning to contact a far wider cross-section of Indian society all over India.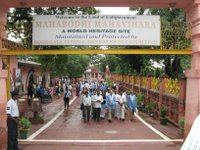 The Dhammakranti project is appealing for funds to assist the work of contacting local Dalit and tribal people who have become interested in Buddhism but who cannot afford to attend retreats, please click
here
if you would like to contribute.
Labels: Dhammakranti, Dharmaduta, India, Kerala