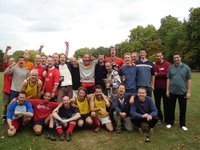 Is Jesus the answer to Cambridge FWBO's Buddhist Footballing success?
This was the question posed by Jayaraja after the FWBO's little-known but much-loved annual football knockout competition. He told FWBO News -
"For the third year running, the Cambridge FWBO football team (led by none other than Jayaraja!) returned from London tired, hungry but satisfied with the success of retaining the FWBO's 6-a-side football trophy. That ache deep in the muscles, the knocks and grazes, the weariness, is - I am sure - much easier for the victors.
"I don't think we have the strongest team in terms of footballing know-how. For example the LBC had two players in the running for Player of the Tournament, and depth throughout their team including a very strong goalie. In contrast our goalie Mike had only played keeper before when wearing ice hockey skates – but what he lacked in knowledge he made up for in enthusiasm, application and focus. Other members of our team were equally new to football - Peter 's background is gymnastics and volleyball, Arthasiddhi's rugby. To a trained eye it is only Pat, Mario and myself who look as if we have spent endless childhood hours scoring the winning goal in a world cup final in some distant dream.
"I think our success has been down to a willingness to learn, and plenty of practice and fun down at Jesus Green, a beautiful bit of Cambridge green space by the river where you'll regularly find our guys playing amongst themselves or with the many keen footballers in the city. We know what we can do as individuals and as a team, and we like to play with each other. And friendship, affection and trust have built up over time.
"One of the hardest games we had was against 'Live United' a team made up of players from different FWBO centres including three of our own Cambridge lads who were perhaps extra-determined to show that maybe I had made an error of judgement in leaving them out of the first team. I felt and thought a lot on the journey back. A touch of shame at losing my composure in a couple of games. Pleased I didn't lose it in others. Feeling delighted at a couple of my goals, chuffed with my guys, pleased with a couple of planned moves that came off and the turnaround after trailing to a strong Irish team at half-time – thanks to us keeping our cool and playing as a team.
"Yes, I thought - Jesus was the answer to our success. Long may the tournament continue. I would love it if someone else wins it next year, but we certainly aren't going to give it away.
"To all who took part: the spirited and resolute guys from Ireland, the strong and determined men of Bristol, the free and talented men of Buddhafield, the energetic and passionate men of Live United, and the organised, fair and experienced
men of the LBC, a big thank you.
.
Metta Jayaraja
Labels: Buddhafield, Cambridge