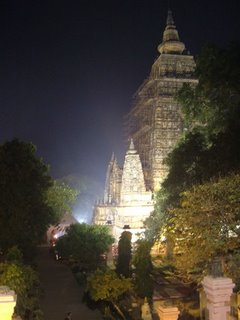 FWBO News is happy to pass on this announcement and request from Nagaketu at our
Dhammakranti team
in India. Previous stories from this great project have included their
Delhi symposium
and their
tour of South India
late last year.
Dear friends,
We are very happy to inform you that we are organising the 6th International Dhammakranti Retreat in Buddha Gaya (in the State of Bihar, India) from 11th Nov. to 17th November 2007 at the Nyingma Monastery in Buddha Gaya. This is going to be the second and largest International Dhammakranti Retreat in Buddha Gaya organized by Dhammakranti Social Institute, TBMSG, India.
This is a good opportunity to be in the most holy place for Buddhists in the world. It is a rare opportunity to practice and learn the Dhamma with 3000 to 5000 people from India and the World.
These retreats have made a considerable impact throughout India – they give people from all castes and classes the opportunity to practice Dhamma together and form a Casteless society in the true sense. In India this is truly a precious opportunity.
This retreat is an opportunity for people to interact with others from all different caste and international backgrounds. We will meet everybody deeply enough, and in sufficient unity and harmony, that our biases towards seeing people as higher or lower than us will simply vanish.
Many people from very poor economic backgrounds, from many Indian states, are going to participate in the retreat. A donations scheme is being set up to assist many of them to attend, and this report is an appeal for donations – see the contact details below. Your donation will help hundreds of them to have this unique experience in their life.
Come and join this historic event to transform the Society, based on Liberty, Equality and Fraternity, and fulfill the dream of Bodhisattva Dr. Babasaheb Ambedkar.
Dhammachari Subhuti will lead the Retreat, which will be on the theme of the Life of the Buddha.
The major attractions on the retreat are Meditation, Talks, Buddhist Rituals, Group Discussions & Buddhist Cultural activities.
We are expecting 200 Westerners and 100 Order Members (Dhammacharis) from India and Abroad.
Fees: for westerners 100 pounds uk/200 us dollars per person.
Book your place now and Contribute in reviving the Dhammachakra (Dhamma Revolution) in the World.
Let us participate in the Humanitarian Revolution to make an Equal Society for all.
To book, to make a donation, or for more details please contact us at:
Central office Nagpur: 0091-712-3241512 |
e-mail
|
web site
Please pass this information on to as many people as possible.
Yours in the Dhamma,
Nagaketu, Ritayush, & Maitriveer Nagarjuna
Central Organizing Committee, FWBO/TBMSG Dhammakranti Social Institute, Nagpur, India.
Labels: Bodh Gaya, Dhammakranti, Dharmaduta, India, Subhuti