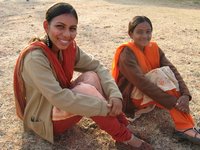 Ann Dennehy is a mitra and English teacher from the FWBO's
San Francisco Buddhist Center
. She sends us this report from India -
In December 2007 the National Network of Buddhist Youth (NNBY) held its second annual conference at TBMSG's Bor Dharan retreat center, just outside Nagpur in central India. It was a gathering of the next generation of Buddhists from all over India, and was entirely student-led and organized, with just a little help from my friend, Dhammachari Kumarjeev, a leader of the TBMSG's
Dhammakranti project
. 130 people attended the first conference in 2006, and this year there were 600 people. Next year they hope for even more! I was invited by Kumarjeev to attend as part of a team of 5 trainers to work alongside him, Subhuti, and a team of student leaders.
Each day consisted of meditation, dharma talks, various sessions (or "offerings" as we called them), pujas, and oh yes, delicious Indian food. Since I teach English I was there to offer English; basic conversation practice, grammar review, pronunciation improvement. I also met spontaneously with students one-on-one and in small groups as they approached me, offering specific language advice and encouragement. The other trainers offered sessions in NVC, drama, team-building games, aikido, study skills, time management, and many other activities.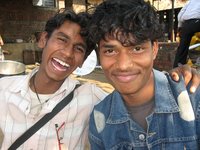 As I spoke with students throughout the week I asked what they were enjoying - they spoke of the friendships they were making, how much they enjoyed Subhuti's playfulness and his serious commitment to the legacy of Dr. Ambedkar and abolishing casteism in India, and all the practical skills they were learning from the different sessions. Some told me how they struggled with self-confidence, others how much their self-confidence has grown since last year's conference. I was very impressed by their sensitivity, their emotional clarity, and their honesty. In my sessions I noticed how eager students were both to learn and to play, how direct they were in asking for what they did and did not want from our time together, how supportive they were of one another's learning, and how rapidly they were able to absorb and apply new information. It was the most fun I have had in my 17 years of English teaching.
On the retreat myself I had good company in my roommate Sucitta and we fell asleep each night talking of India, and woke up giggling. I enjoyed so much my own deepening friendship with Kumarjeev and his family, the other trainers, the Indian Order Members, the student leaders, and the many many students I met during the week. I was in awe of Subhuti's clarity in teaching the dharma, in explaining the legacy of Dr. Ambedkar, and conveying the urgency of abolishing casteism once and for all in India. The students were completely engaged as he spoke, scribbling in their notebooks, laughing at his Bollywood filmstar references, following his chanting with vigour. I was enchanted watching the kitchen staff prepare lunch; the men stirring enormous pots of rice and vegetables, the women making chapattis for hours. I had fun dancing bhangra in the girls' dorm, polishing our nails, and painting our hands with henna. I was impressed by the concentration and mobile phone coordination of the student team and the way they built an extra dorm on site to house an unexpected 50 participants who arrived in the middle of the night. I was captivated by the art offerings that appeared each day; a multi-colored sand painting on the floor of the stupa of the Buddha, a detailed pencil drawing of Dr. Ambedkar, a relief made of mud, outdoor shrines that changed nightly.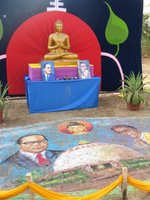 I learned so much myself of Dr. Ambedkar's historic conversion 50 years ago, his commitment to ending the horrific caste system in Independent India, his devotion to his ideals of Liberty, Equality and Fraternity, and his inspiration from the Buddha. All the Indians present, the majority of whom were Dalits and from the community once labelled "untouchable", have known the oppression of the caste system personally, and expressed such heartfelt appreciation for Dr. Ambedkar – yet seemed so optimistic, so joyful, so motivated by his example. Understanding the impact of Dr. Ambedkar is essential in understanding Buddhism and the TBMSG in India, and hence to what unifies our world-wide movement. I left the retreat wondering how I might share his legacy with the North American sangha.
I have never before received such gracious hospitality as I did on this retreat – it was continuous, from the red rose at the welcome ceremony, to the smiles and tiny flower buds offered throughout each day, to the songs, poems and garland at the New Year's puja on our last night, where about 50 people became mitras, and we all threw flower petals at midnight. It was all so gorgeous! The whole week was such an inspiration. I left feeling deeply moved by the spirit, creativity, and love of all the young people I met. They are so radiant, so dynamic, so energetic that I imagine them as beams of light shining out all across India, illuminating their own studies, illuminating their families, their peer groups, illuminating their sanghas, illuminating their entire community.
Jai Bhim!
Labels: Dhammakranti, Dharmaduta, India, Nagpur, Youth