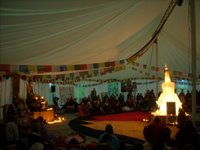 The FWBO's first
International Retreat
is in full swing at Taraloka, with over 400 people attending, many camping in the bumpy fields surrounding the Retreat Centre. It is a rich and diverse Sangha gathering - those present are of many nationalities and countries, many ages (83 to just 6 months), and many levels of experience, not least of camping!
Lokabandhu reports from the retreat- "The theme is 'Beating the Drum of the Dharma', and we're exploring it from many different angles – meditation, talks, story-telling (in the evenings, with the children present), ritual, and study – and, of course, in the many meetings happening between people every moment. In the mornings there have been talks – on the first day the theme was 'Wisdom', and Ratnaguna explored with us some of the Buddha's very earliest teachings, the 'pre-Buddhist Buddhism' from chapters four and five of the Sutta Nipata. Yesterday's theme was 'Absorption'; Kamalashila led us through what may have happened in the Buddha's mind immediately after his Enlightenment, as he sat beneath the trees around Bodh Gaya. Today the theme is 'Compassion'; Sangharakshita is expected to arrive shortly, and will be giving a short talk and no doubt meeting people.
"It's going very well indeed, it's real meeting between people and a real coming-together of our Sangha. In the evenings we have chanting and puja; circumambulating a rather wonderful papeier-mache stupa as we go. For those who can receive it, there's a video clip of this on
Youtube
or embedded below".
Meanwhile FWBO News has heard that the Buddha Festival in India also went very well, with some 500 attending. We will be publishing a full report once we have some photos of the event – expected shortly.
Labels: Buddhafield, FWBO, retreat, Taraloka