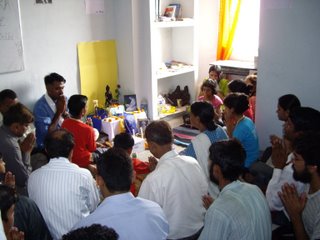 News of India comes today via an FWBO blogger with her ear to the ground in San Francisco - in her journal
Jai Bhim International
she writes:
"we are rejoicing in the opening of a new FWBO/TBMSG dhamma center in delhi, the dhammachakra buddhist centre.
"the center officially opened last sunday, with an inauguration led by its director, dhammachari maitriveer nagarjuna (shown leading the puja, left).
"over 50 people came to celebrate the new space on the prestigious jnu university campus: university students, buddhists representing other sanghas, as well as families from the local community. may this sangha continue to thrive!"
The new centre will serve as a base for the ambitious plans of TBMSG's Dhammakranti Project for new Dhamma classes in the four neighbouring States of Rajasthan, Hariyana Uttar Pradesh and Punjab, besides serving as a community base and training centre.
During the opening ceremonies Lama Sumati from Bodhagaya, a long-time friend of Maitriveer Nagarjun, spoke, reminding people about Dr.Ambedkar's teaching that:
1. Buddhism is difficult to practice, so one must be brave to practice the Dhamma.
2. Dr. Ambedkar wanted his followers to be brave to revive the Buddhism.
3. There is no short cut to practice, so we need to work hard for the Buddha's teachings.
The new centre's first major event is already in preparation, a North India Youth Convention to be held under the auspices of the new
National Network of Buddhist Youth
- the dates are 11-14 September 2008, in Delhi.
Labels: Delhi, Dhammakranti, Dharmaduta, India, TBMSG