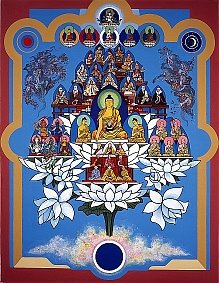 FWBO News is pleased to publish
part V
of Order Member Rijumati's travel diaries, as he heads around the world after many year's work in Right Livelihood in Cambridge, UK.
Part V is an account of his pilgrimage in Japan to the four Japanese Teachers on the Western Buddhist Order's Refuge Tree (shown opposite) – Hakuin, Kukai, Dogen, and Shinran.
The Refuge Tree as a whole contains some 42 figures from across the whole Buddhist tradition, being those the Order draws on most strongly for teaching and inspiration. It's a symbol of the highest ideals of Buddhism, a traditional image that takes different forms in different schools. Modern Buddhists might be regarded as heirs to the whole of the Buddhist tradition and the Refuge Tree of the Western Buddhist Order includes figures from India, Tibet, China and Japan as well as archetypal Buddhas and Bodhisattvas and the teachers whose guidance helped to shape Sangharakshita's understanding of Buddhism. An excellent introduction can be found in '
Teachers of Enlightenment
', by Kulananda.
Click here to read about Rijumati's visit to Shinran's place of exile, on the coast of northwest Honshu; Eiheiji, Dogen's monastery (which Rijumati unflatteringly describes as a "Buddhist airport departure gate"); Kukai's remote mountain forest plateau at Koyasan - whence come the famous lines

"You ask me why I entered the mountain deep and cold,
Awesome, surrounded by steep peaks and grotesque rocks,
A place that is painful to climb and difficult to descend,
Wherein reside the gods of the mountain and the spirits of trees.

And last but by no means least, his visit to the shrine of Hakuin and the old and beautiful tree named the Suribachi pine.
Labels: Japan, Order events, Pilgrimage