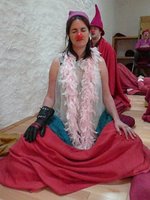 Jayachitta has sent FWBO News this report of the FWBO's first-ever 'Clowning and Insight' retreat, held recently at
Dhanakosa retreat centre
in Scotland. She writes -
"Dhanakosa in early autumn was the perfect venue for this first ever 'Clowning & Insight' retreat. The skies gave us clear and calm skies and the loch was often still like a mirror.
"'It's all about space' was what inspired both Tejananda and myself, co-leaders of this retreat. Central to 'Open Awareness' meditation is the experience of ever-present space that is always available. It is this space that allows ever-changing experience to arise and pass, being just what it is, and not the 'I' that we so often construct out of it with our habitual minds. Whilst in the quiet of our meditation we turn towards this experience with interest and care. Clowning allows us to share what goes on from moment to moment publicly - with everyone!
"Body-work, dance and partner exercises led us - on a road of much play and laughter - to discover our very own clown. We found out what he or she likes, how they dress, what moves them, and just which other clown might set them of to discover joy, longing, jealousy or vulnerability. Our clowns even learned to meditate! All of that was shared and shown, and appreciated by an empathetic audience, who only knows too well what those states are like!
"Clowning allows us to be so much more that we usually do. The 'smallest mask in the world' (Jacques Lecoq) - the red nose - liberates us from our ideas of what we should be (or what we are afraid we might be!), and allows us the great space to be whatever is arising - without fixing it into a personal identity. So insight and clowning go hand in hand: it is not just a concept that we are ever-changing and without a fixed self. As a clown it is an tangible fact - and it becomes obvious through the naivety of the clown and the possibility of laughing at oneself.
"The central theme of the clown is the flop, the failure to accomplish even simple tasks. Owning that and allowing ourselves to mess up again and again we free ourselves from so much fear! Especially for Buddhists - aiming for Enlightenment, no less! - it can be hard to admit how often and how regularly we make a mess of things. The clown, with great humility, can be just what they are - no better, and no worse. And that is the starting point to discover just what fascinating and multifaceted beings we all are!
"So the main flavour of the retreat was delight in each other. We delighted in what everyone showed of themselves, be it laughter or tears, being shy, bold, loving or confused. What was revealed, was each person's poetry, their own individual way of being themselves, with the struggles and successes of their own lives. - I felt very honoured to receive so much!"
Jayachitta
For more about clowning see Jayacitta's website:
www.rednoses-unlimited.co.uk