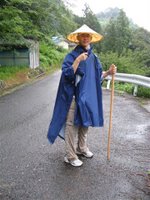 Part VII of Rijumati's travels is now available on FWBO Features. He says -
"Dear Friends,"Here is a long piece about my 7 day walk along part of the ancient 88 Temples pilgrimage route around Shikoku island, known sometimes as the 'Shikoku 88'. This was one of the highlights of my time in Japan, both in terms of stunning scenes and personal reflections. I found the pilgrimage very inspiring and challenging and I intend to return to Japan at some point and finish the 1200km walk (I only did the first 175km on this occasion). It was such a valuable experience that I would strongly recommend it to anyone, even those who don't consider themselves Buddhist.
"The Shikoku 88 is absolutely not a pleasant ramble. Undertaken by foot, it is hard-graft walking, often along busy highways, sometimes without even the protection of a pavement. Naturally the route, wherever possible, takes in the glorious beauty of Shikoku island: its mountains and forests, cliffs and rivers, the sky and the sea. But it is definitely a mixed bag.
"So the question "why?" remains. The official reason is that through undertaking the pilgrimage one enlists the aid and support of one of the greatest of all Buddhist saints, Kukai or Kobo Daishi as he is honorifically known in Japan. Kukai was born on Shikoku in the 8th century, was enlightened at Shikoku's southern cape, Muroto, and is attributed with founding most of the sacred 88 temples on the pilgrimage. Many of the temples tell special stories about Kukai's visit: here he conquered a dragon, here he carved a Buddha, here he created a stream that always runs pure.
"Yet in a sense there is no universal answer to this question. The answer must be sought in the heart of every would-be or actual
henro
, or pilgrim…"
Read the full account of his pilgrimage on FWBO Features
here
.
Labels: Japan, Order events, Pilgrimage