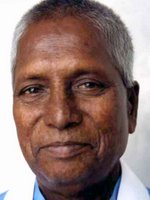 FWBO News has to report the sad deaths of two Order Members, Dharmacharis Mahadana and Adarsha.
Mahadana, from Pune, India, passed away at 9:15 pm on Saturday 13th Sept 2008, at the age of 83. The funeral ceremony took place the next morning at 11:00 am. Amrutdeep, Coordinator of the Indian Order Convenors' Team, says -
"Mahadana was born in a poor Dalit family. He had many struggles in his early life. He was not an educated man, but devoted to Dr. Babasaheb Ambedkar. He was a member of the 'Samata Sainik Dal' when he was quite young; this was a group which used to take care of security for Dr. Ambedkar at the time of public meetings. He was a true follower of Dr. Ambedkar and an honest activist of his movement.
"He was having strong faith in Buddha, Dhamma and Sangha, and practising Buddhism seriously. Bhante Sangharakshita had had very good impact on his life and he became follower of him. He got ordained in our Order in 1999 and his whole life style has changed remarkably.
"He used to sell Buddhayan (a Marathi-language magazine produced by TBMSG) by visiting people door to door in various slums in Pune. Due to his very strong faith and wish he could learn how to read and write at a very late age. He never took rest, with lots of Virya and spirit he used to visit to common and simple people to teach Dhamma to them.
"He was a true propagator of Dhamma, and in a true sense he was 'MAHADANA', which means Great Generosity. He was well respected and popular amongst all Buddhist people of society. He always helped harmonising the Order, for a few years he was the security person at the Mahavihara, Pune.
"At the end of his life he was ill but even in such a condition he could come to attend the 'Order Day' at the Mahavihar in Pune last month on Sunday 3rd Aug. A few days before he died, he expressed his strong desire that he wanted to attend the forthcoming Order Convention at Bodhgaya and would like to meet Bhante and all his brothers and sisters in the whole Order at the Convention.
"With Metta, Amrutdeep".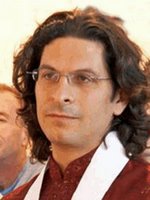 Adarsha
died at approximately 11.30 pm on 2nd October 2008. He was at Bombay Airport, where he was returning to the U.K. after a routine visit to Karuna Trust projects in India.
He worked for the Karuna Trust and is part of the North London Buddhist Centre Sangha. His death was very sudden and unexpected. His funeral will be held on Monday October 13th at the North London Buddhist Centre and at a nearby crematorium.
Adarsha was 38 years old, came in contact with the FWBO in Lancaster during the nineties, after which he moved to India for a time and then to London to join the Karuna Trust. He was ordained in March 2007, when he took the sadhana of Padmasambhava.
He is going to be hugely missed by his mother, father and two brothers, and his very many friends in the Sangha in the U.K., India and elsewhere. At this time we can all send our metta to Adarsha, his family and his friends.
If you would like to make a donation in his memory there is a memorial page at
www.justgiving.com/adarsha
. All monies collected will go towards Karuna's Dhamma projects in India.
Labels: Death, India, Karuna, Order events