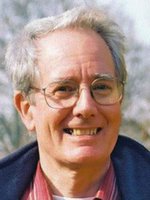 Ashvajit was in India from late September to early November this year. The visit began to take shape when Amitayus asked him, at the Indian Order Convention early this year, if he would lead a 'Jumbo' retreat in Amaravati, a town in the Vidarbha area of central India.
Knowing that there were a considerable number of Order members in the area who would be keen to help, and following the age-old Buddhist tradition of accepting all invitations to teach the Dharma, Ashvajit said yes, he would. Thus began eight months of preparation involving more or less continuous communication with Amitayus and quite a few other Order members both Eastern and Western.
One of the first tasks was to raise funds, and so, with a few hints from Lokabandhu, a
JustGiving Appeal
was set up on the Web under the auspices of
FWBO Dhammaloka
, and an email sent to all non-Indian Order Members inviting them to take a look at it. Within a few days, funds started pouring in. It was a very heartening experience to witness such generosity, but there was a long way to go.
And then one day a donation came in for £3,000 from a donor who wished to remain anonymous! Ashvajit wondered for a moment if he was dreaming, but no, it was real. Such generosity was deeply affirming, and from that point on, all involved in the preparation for the Jumbo Retreat shared an even greater sense of enthusiasm and possibilities than that with which they'd begun.
Once in India, in early September, Ashvajit began a whistle-stop tour around Vidarbha. Each day for about 14 days leading up to the Jumbo retreat he and his team travelled to one or another outlying place, giving about 20 public talks, including one to a crowd of 100,000 people in Chandrapur, and many much smaller ones – which, he says, he preferred.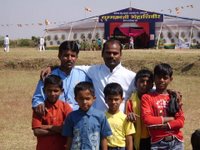 Then came the Jumbo Retreat itself, which 1,200 people attended. It was held under canvas in pleasant countryside outside Amaravati and very well-organised by the team of local Order members. Mornings saw double meditations, which, Ashvajit said, went deep considering the number of people present, followed by a Dhamma talk, translated of course. This was followed by study groups which were very much appreciated, and question-and-answer sessions in the afternoon. These proved especially popular, the answers often attracting applause.
The pre-retreat tour had managed to attract hundreds of people who were experiencing the Dharma for the first time, and at the end of the retreat some of them were weeping, they had enjoyed themselves so much.
Ashvajit commented afterwards he felt that he'd gained quite as much from the tour and retreat as he had given, and expressed his deep gratitude to the Amaravati Order members and to all those in the West who had contributed so generously and made the whole thing possible.
Photos of the event and some of the tours are available on
Flickr
and
Picasa
.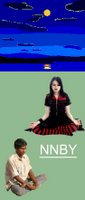 A series of other major retreats are coming up fast in India – next being the
International Full Moon Sponsored Meditation night
on Saturday December 13th. This is open to all, wherever in the world you live, and is a fund-raiser for India's National Network of Buddhist Youth. Click the link to take part or to donate…
In early March there's the 7th International Dhammakranti retreat; this will be held at Buddhagaya from 1st March evening to 6th March evening 2009, straight after the International Order Convention. They too are seeking sponsors – please see their
website
for more details.
Labels: Amaravati, Fundraising, India, retreat