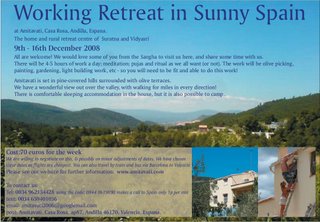 The FWBO operates many retreat centres around the world; with some eight in the UK alone (see
www.goingonretreat.com
for details) .
There's also four FWBO retreat centres in Spain – Guhyaloka (the Secret Realm) and Akasavana (the 'Forest Retreat of Luminous Space') being the two best-known, focussing on long ordination retreats for men and women respectively.
Less well known is Amitavati, a small retreat centre near Valencia, run by two Order Members Suratna and Vidyasri. They're having a
Working Retreat
in December and are inviting anyone interested to join them.
The fourth, and newest, is
Eco-Dharma
. High in a remote part of the Catalan Pyrenees and home to three Order Members - Guhyapati, Kamalashila, and Yashobodhi; EcoDharma aims to offer courses, events and retreats which "support the realisation of our human potential and the development of an ecological consciousness honouring our mutual belonging within the web of life – drawing on the Buddhist Dharma and the emerging ecological paradigms of our time". They too have some
events coming up
– and everything they host is on a 'dana' basis (Dana = Generosity, or the principle of 'give what you can')
Early next year Guhyaloka have their annual month-long working retreat for men, you can find details
here
…
PS
- we've been asked to mention a FIFTH retreat center in Spain, this is
SOLTERRENO
, a small retreat centre run by Order Member Bodhin and his partner. It's situated between Guhyaloka and Valencia, and among other things has a lovely solitary retreat cabin. With the new shrine room it can accomodate small retreats of up to 8 to 12 people. Bodhin says, "Have a look at the
photos
!"
Labels: retreat, Right Livelihood, Spain