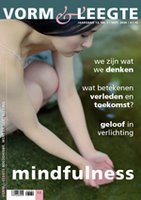 Following his trip to Holland in April, Sangharakshita has had an interview published in the Dutch Buddhist magazine '
Vorm en Leegte
', part of an issue of the magazine devoted to mindfulness.
The interview is available (in Dutch) on the Features section of FWBO News
here
; it was conducted by Dorine Esser, a mitra from Antwerp, in Belgium.
Non-Dutch speaking readers may still enjoy the very beautiful photographs that accompany the article, taken specially for the article by Belgian photographer
Diego Franssens
.
A translation is being prepared and will be added to FWBO Features once it is available.
Labels: Holland, media, Sangharakshita