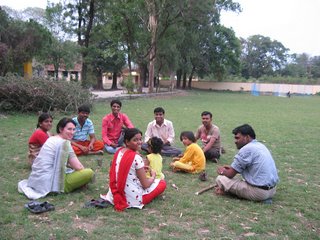 Ann Dennehy, a mitra from the FWBO's San Francisco center, is launching an appeal for Jai Bhim International. All readers of FWBO News are invited to respond. She says -
"Dear Buddhist Friends - I would like to tell you about a project I have been working on for the past few months. It is a non-profit I have created, Jai Bhim International, registered in the US, to support the social justice work of Dalit (ex-untouchable) Buddhist youth in India. There is detailed information about this community, and about the caste system as an urgent human rights issue, on our website:
www.jaibhiminternational.org
.
"The Dalits, considered "untouchable" in the Hindu caste system (now officially called "ex-untouchable" but still considered low-caste inpractice) have faced oppression in India for centuries. Things have been slowly changing for the past 50 years, thanks to the work and inspiration of the great Human Rights Leader Dr. Bhimrao Ambedkar, the chief architect of Independent India's constitution. Our organization is named in his honor. JAI BHIM, means "Long live Bhim/Dr. Ambedkar", and is a common greeting between Dalit Indians. Dr. Ambedkar converted to Buddhism 52 years ago in October, as a way of stepping out of the oppressive caste system. His conversion, or "diksha", set off a mass conversion movement which continues to this day, and which has been supported by Bhante Sangharakshita.
"In the past year I have been to India twice, and will return in December for a month to work on JBI projects. I have been so inspired by the Dalit students I have met, their open-heartedness, their creativity, their motivation, and their commitment to justice for their community. It is because of them that I have created our non-profit, in order to encourage and support the projects they are creating themselves. In December we will be providing scholarships for 20 students to attend a national youth conference in Bor Dharan, central India. I will also be leading a teacher training workshop in the city of Nagpur for Indian English teachers, which is the beginning of a long-term ESL teacher mentoring project.
"Sadly, I have just received an email from our Board Member in India saying that recently university students from a Dalit background haveb een violently attacked in cities across India, and that their communities have been prevented by the police from peacefully protesting. There is more on our blog:
http://jaibhim.livejournal.org/
. This news makes the work I am doing in India feel all the more urgent and important, and is a reminder of how caste oppression is a serious, and overlooked, human rights issue.
"I am appealing for your support of our projects. We are currently accepting donations on our
website
, and your donation of $25 will allow a Dalit student to travel across India and be on retreat at the upcoming National Buddhist Youth conference in Bor Dharan in December. Please consider sponsoring a young member of our sangha in this way, investing in the next generation of Buddhists, a caste-free generation.
"It is the Thanksgiving holiday here in the U.S., and this Thanksgiving I am reflecting on how thankful I am for Buddhism and for all of you in the sangha, bringing the dharma out into the world.
"Happy Thanksgiving to you, wherever you might be.
"Jai Bhim , Ann Dennehy,
Creative Director
Jai Bhim International
San Francisco Buddhist Center
Labels: Fundraising, India, USA, Youth