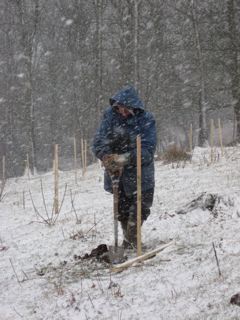 As many of us will know, Britain has been shivering this week under a carpet of thick snow. It's not been all misery though – there's a real pleasure in curling up in bed with a book, or sitting by the fire as the cold wind whistles outside..
Spare a thought then, for the hardy folk of Buddhafield, nine of whom have been bravely proceeding with their planned Tree-Planting Retreat on the Buddhafield land down in Devon. Camping, of course.
Abhayajit, the retreat leader, told us –
"We're still here, though its not been easy. A couple had to leave due to illness, but there's still nine of us here now – and we have been managing to plant some trees! It was a bit mad one day, as there was a blizzard. To be honest I think we have felt hit by the weather. Probably the hardest thing has been vehicle problems, which of course we depend upon absolutely for bringing in supplies. We've had some bad luck there - two punctures and some flat batteries. But we're in good spirits."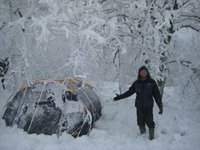 The retreat is on their land at Broadhembury, which they are increasingly using as a showcase for permaculture techniques. Later this year (hopefully in better weather!) they'll be returning to the land to offer a
72-hour permaculture Design Course
, which will be co-led by the well-known permaculture teacher
Steve Read
and Dharmamrta, one of Buddhafields land managers and responsible for growing much of their vegetables through the year.
Labels: Buddhafield, eco-dharma