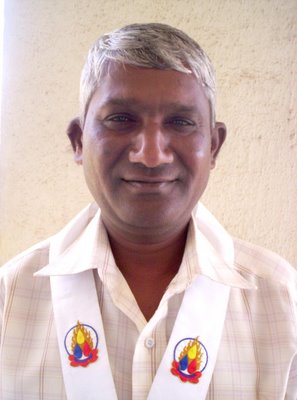 Amrutdeep has written to FWBO News to inform us of a death in the Order. He says -
"This is to inform you of the extremely sad news of the death of Dhammachari Akashabodhi from Pune, India. Akashabodhi died at approximately 7.00 a.m. Indian time on Wednesday March 11th. He died of a sudden and unexpected heart attack.
"Akashabodhi was aged 49, and he was ordained in 1994, with Suvajra as his private preceptor and Subhuti as his public preceptor. His sadhana was Sakyamuni.The funeral took place the same evening , first at the Mahavihara and then at the nearby cremation ghat. There were maybe 3,000 people present, from Dapodi and surrounding areas where he was very well known and much respected and loved, and also from many other parts of Maharastra as people had set out for Pune immediately on hearing the shocking news of his death.
"Only last night Akashabodhi had given a vote of thanks after a talk by Sudarshan on the occasion of the 19th anniversary of the inauguration of the Mahavihara, and then he joined others in performing a song of Maitri. Those who heard him said that he was in a very positive mental state indeed. The previous week he had been at the International Convention at Bodhgaya which he found greatly inspiring and immediately preceding this he had visited Sarnath, Vaishali and Nalanda with friends.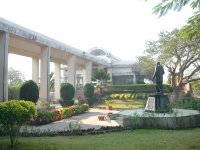 "Akasabodhi was a poet and singer, a hugely friendly man who made strong connections not only with many Order members but also with those from other Buddhist groups and political parties, and always he made friends not only with individuals but also with their whole families. For several years he was Chairman of our centre in Dapodi (Mahavihara).
"It's very shocking for us that Akashabodhi has left us, especially so suddenly, and he is going to be greatly missed.
Yours in the Sangha, Dhammachari Amrutdeep,
Co-ordinator of Order Convening Team, India.
Labels: Death, India, Maharastra, Pune