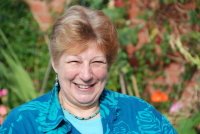 Maitrimala, Catering Manager at the FWBO's Taraloka retreat centre, was interviewed this week by BBC radio. You can listen to her here -
http://www.bbc.co.uk/iplayer/episode/p0028xfh/Mornings_with_Joanne_Malin_03_03_2009
(to listen you'll need Realplayer installed on your computer; it can be downloaded for free
here
if necessary).
Simply click to play and then drag the time bar to 42 minutes.
The interviewer' s curiosity seems to have been prompted by news that Delia Smith, the famous chef, needs an hour of silence a day, which she describes as "time to be, just to be still", with Delia apparently advising her followers to time this period with a kitchen timer!
Maitrimala begins by describing the view from her bedroom window, then life at Taraloka more generally – and then what it might be like to go on a retreat there. She assuages the interviewer's anxiety about periods of silence by making it quite clear that it's ok to laugh while on a retreat!
The program is on the BBC's 'Mornings with Joanne Malin' program, described as "the radio version of the very best woman's magazine".
There's pictures of the rest of the Taraloka community on their website
here
.
Tomorrow we bring news of another FWBO radio appearance, this time a new radio play by Sarvananda, just aired on BBC Radio 4.