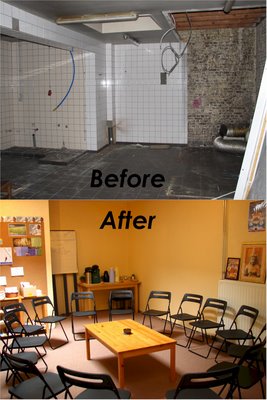 Upekshadaka, an Order Member from the FWBO's centre in Ghent, Belgium has written to say -
"On March 21st the Ghent Buddhist Centre is officially opening its new centre.
At the beginning of last year it became clear that we had to move out of the old centre because it was getting too small (well, there were just more and more people coming - the centre was just as big as it always had been!) We found a new place to rent close to the old one and in November 2008 started renovating it.
"Six months of hard work by our sangha have transformed what used to be a greasy old restaurant into a nearly finished wonderful new Buddhist Centre. have a look at the pictures and judge for yourselves!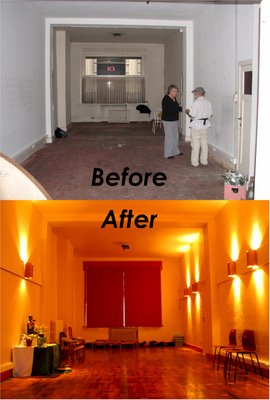 "On Saturday March 21st we're celebrating the hard work and the hard workers and the big change this involves for the Ghent sangha. Everyone is invited to join us in this celebration. This is the programme:
11.00 - opening ceremony & meditation
14.00 - 17.00 - everyone is welcome for a visit and some tea and cake (which will be abundantly present, as is the habit for flemish people).
"Our new address is: Oudescheldestraat 14, Gent, Belgium (www.gent.vwbo.net)
"Hope to see you there on the 21st or some other time!"
Labels: Belgium