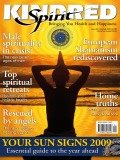 Kindred Spirit is a long-established alternative magazine, describing itself as "the ultimate global guide to positive change". Each issue covers a range of diverse subjects such as spiritual growth, personal development, complementary therapies, travel, health and much more.
Their
latest issue
picks out five 'top spiritual retreats to nourish your holistic health' – and two of the five are FWBO retreat centres. There's the 'Jungle Club' in Thailand offering outdoor Scaravelli yoga; there's meditation in Marrakech, there's Findhorn's 'Experience Week' in Scotland – and there's our own
Rivendell
and
Dhanakosa
retreat centres… They describe the FWBO approach as "making Buddhism and meditation accessible as a living tradition in the modern world and open to people of all cultures and heritages".
About Rivendell they say "surrounded by picturesque grounds, fields and woodland, with a library and garden, introductory group weekend retreats here are the ideal way to experience Buddhist values and principles for the first time". Dhanakosa is described as "the most beautiful retreat centre I have been to, sitting on the shore of Loch Voil, with the Highlands just a short walk away". Dhanakosa runs a wide range of retreats where meditation is allied with other activities – Kindred Spirit specifically mentions their 'meditation and clowning' and 'meditation and hill-walking' retreats.
The FWBO has some eight retreat centres in the UK, and details of all can be found on our website
www.goingonretreat.com
.