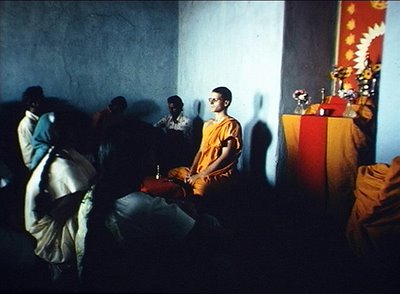 We conclude this week's series of stories on India with some photographs from the early days of TBMSG, as the FWBO is known in India. For the curious, TBMSG stands for 'Trailokya Bauddha Mahasangha Sahayaka Gana", the "Friends of the Great Buddhist Sangha of the Triple World".
These are part of Lokamitra's archive and have been added to the
FWBO Photos
collection on Flickr, which now hosts over 3,800 photographs from all over the FWBO and TBMSG.
Click here to play a
slideshow of the images
.
To complement the slides we have posted two articles by Lokamitra, one describing his first experiences of India and one looking back after 30 years of work helping to create TBMSG.
Click here to read
The Day that Changed my Life
.
And here for
30 Years in India
.
Both are moving testimonies of the situation in India and the amount that has been achieved through people working together, inspired by a common vision.
For further reading, we recommend 'Jai Bhim', Nagabodhi's book-length account of the revival of Buddhism in India and the part Sangharakshita, Lokamitra, and many others played in it. It's now available on-line on Sangharakshita's website at
www.sangharakshita.org/bookshelf/jaibhim.pdf
.