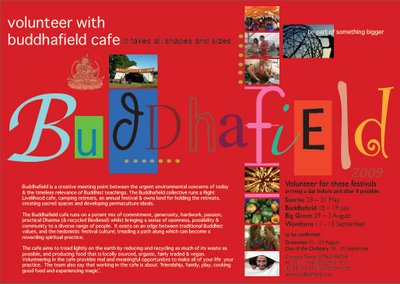 Buddhafield is a major FWBO sangha in the West of England. They run the ever-popular Buddhafield Festival, a series of camping retreats through the summer, the Buddhafield Café, an organic vegetable growing business, and manage two very beautiful pieces of land. They also teach meditation at many of the UK's alternative festivals and have inspired a series of offshoots - Buddhafield North, Buddhafield East, Buddhafield New Zealand...
Right now they are recruiting volunteers for their summer season. Check their website
www.buddhafield.com
to see what they need - the advert shown is for workers in the Buddhafield Café…
As well as recruiting, they're hard at work preparing their kit for the summer season. There's some great photos of 'Buddhafield backstage' - see for instance "
The Working World of Rupadarshin
" on Facebook (you'll need to be logged in to Facebook to see them)
FWBO Photos has lots of them 'in action' see for instance
pictures of last summer's festival
,
or
a meditative journey
up to their land at Broadhembury in the beautiful Somerset countryside...
Most importantly though - if you're interested in volunteering with them over the summer, get in touch now!
Labels: Buddhafield, Right Livelihood