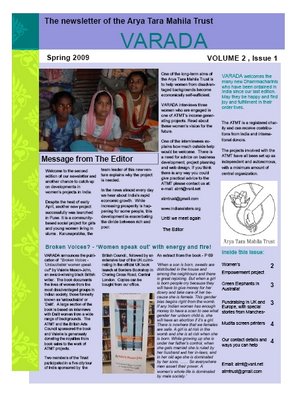 The Arya Tara Mahila Trust www.indiansisters.org (ATMT) is an all-women's project in India run by Order Members and Mitras from TBMSG. They've just released the second edition of their newsletter Varada. You'll find it on-line
here
.
They say -
"Welcome to the second edition of our newsletter and another chance to catch up on developments in women's projects in India. Full details are on our website
www.indiansisters.org
"Despite the heat of early April, another new project successfully was launched in Pune. It is a community-based social project for girls and young women living in slums. We have started work in five slums in the Vishrantwadi area, Pune. The project is for teenage girls from 11 to 20 years of age who either go to school or have dropped out for some reason. We are including aspects of personality development, helping to develop self-confidence, negotiation skills, communication skills and also vocational courses so that the young women will be able to earn something and develop confidence about life. Another new Right Livelihood venture we have helped with is Mudita Screen Printers in Nagpur".
Karunaprabha, the team leader of this new venture explains why these projects are needed: "In the news almost every day we hear about India's rapid economic growth. While increasing prosperity is happening for some people, this development is exacerbating the divide between rich and poor. In a recent Pune University survey, 89% of girls/young women were found to be suffering from anaemia. We arrange anaemia detection camps for the girls and then provide the treatment they need".
They continue -
"ATMT is steadily building international links and a network of supporters - in Germany,
Karuna Deutchland
has successfully raised an impressive Euro 6000 for ATMT projects. Amoghamati's hard work and the commitment of her team will enable new initiatives to support women's development.
"Two of ATMT's Trustees, Karunadeepa and Jayamani were funded to visit Europe in the summer. They gave talks and took part in retreats in UK, Germany and Holland, raising awareness about ATMT's work and collecting some extra funding too!
"Shakyajata from Manchester, UK, took up the challenge and is now fundraising to sponsor an Indian woman Dhamma teacher to travel with Dhammajyoti team support. Indian women from many backgrounds tell us they benefit from learning to meditate and studying the Buddha's teaching. They feel more confident and happy in their families and their working lives.
"And in Croydon, south of London, Sue Bolton has started a cushion making enterprise which will fund poor women to escape the pressure of their family situations by going on retreat where they can rest, study the Dhamma, meet other kindly women, eat good food and meditate. Even the $2 per day retreat cost is too much for these women to afford despite the benefits of retreat life".
"If you're interested to support us, please see our website where's there's forms to
make a regular donation
. There's also our JustGiving page at
www.justgiving.com/atmt
.
"VARADA celebrates the generosity of ATMT's friends across the world".
Tomorrow FWBO News looks at another fundraising project raising money for Dhamma and social work in India, using a green elephant in Sydney...
Labels: Fundraising, India, Pune, Social projects, women