For this week's personal profile, FWBO News presents Karunashur, an Indian Order Member living and studying in Cambridge UK. He has sent us this inspiring report of his recent four-month-long Dhamma tour in the dusty plains of central India.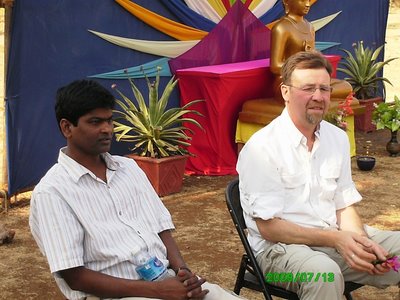 With Saddharaja, also from Cambridge, they have created the
Kshitigarbha project
, which raises funds to run retreats for the very poorest Buddhists in rural areas of India.
Karunashur says -
"I left UK for India on 2nd of Jan. Three days later I started giving talk in every village in my region - this is near Wardha, in Central India. It is very poor and suffers for a long time from drought. Many farmers are committing suicide. Saddharaja and I (
photo, left
) led a big 'Kshitigarbha' retreat at our retreat centre 'Bor Dharan' near Wardha. This is an annual retreat especially for poor people - we raise money in UK to make it possible for anyone to come. We also led the Kshitigarbha retreat last year. That time around five hundred people turned up. This time there were altogether seven hundred retreatants. They were coming from rural area and poor families.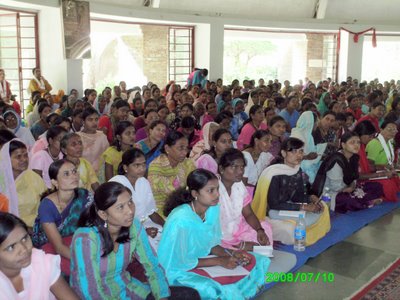 "Before that I had been giving talks many different villages. In total I gave 70 talks while I was in India. After finishing the retreat, Saddharaja and I together gave six more talks around Wardha district. While we were giving the talks, people were saying to us that a few Hindu people also came our retreat. It was very pleasing news for us. Then I realized more than fifty Hindu people were in Kshitigarbha retreat. It's a good sign for us. Not only Buddhist people are coming but non-Buddhist people also.
"Saddharaja left India then I was giving talks again. Most of my talks are based on Dhammapada. I realised it is good to tell Dhammapada stories rather than high principle or philosophy. People in rural areas like listening to stories! They were enjoying my story telling. Dhammapada stories are related to human beings. Most of talks were arranged for the evenings when people were free.
"Also this visit I led a day retreat with TBMSG people and non-TBMSG people. The people were already Buddhist; they know how to chant the Pali Canon and do puja. But they don't know about meditation. I was teaching them two kinds of meditation Anapanasati and Metta Bhavana. A day retreat used to start at 11 o' clock and finish at 5 o' clock. Buddhist people were coming from different villages.
"After that I led a Holi retreat (Holi is big Indian "colour festival"). The theme was the Maha Vagga from the Dhammapada. I gave talks every day in that retreat. Four hundred people were there. It was a great experience to lead that retreat. Afterwards again I started giving talks and leading a day retreat. And then I went to Gujarat gave a talk, and led a day retreat in Valsad. It was my first talk in Hindi - normally I speak Marathi.
"And after that I went to Sikkim for eight days. It was very cold weather and showering. It felt like English weather! I visited Namachi monastery in Gangtok, Ghoom monastery in Darjeeling, and Bhante's 'Bhikkhu cottage' in Kalimpong. Three Order Members were with me. It was a very great experience travelling with them.
"I came back from Sikkim on 25th of April in Wardha. The Sun was pouring fire, it was 46 degrees temperature. I felt sick for three days and spent a couple of days with my family. I left India for UK on 29th of April.
"Thanks to Lokabandhu for this. He told me to write for FWBO news.
"I will write again. Karunashur"
Next year they hope for 1,000 or even more people on their retreat. They have a fundraising page at
www.justgiving.com/kshitigarbha
which readers of FWBO News are warmly invited to contribute to.
Labels: Dharmaduta, India, retreat