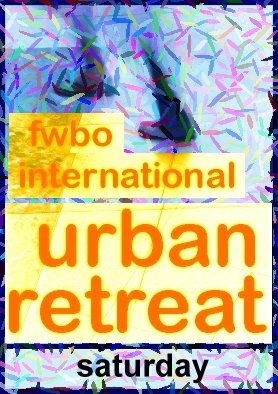 The FWBO's first International Urban Retreat starts today with over 40 Buddhist Centres from around the world - and an unknown but substantial number of individuals on Facebook - coming together for a week of shared practice.
Over the past weeks we've been collecting short talks and videos from individuals from around the world talking about their life and practice; you'll find these on the
Talks and Resources
page of the Urban Retreat website. Latest additions are talks and videos from India, America, New Zealand, Australia, UK, and Germany. Many thanks to
FreeBuddhistAudio
and
VideoSangha
for hosting these.
Coming soon is the Urban Retreat Shrine Mosaic: a large downloadable printable montage of Urban Retreat shrines from all over the world - it should be available Monday afternoon. Plus more talks and videos…
If you want to participate it's still possible to join the Facebook version of the retreat - visit the 'Preparation' event at
www.facebook.com/event.php?eid=59381279298
and follow the links…
Labels: retreat