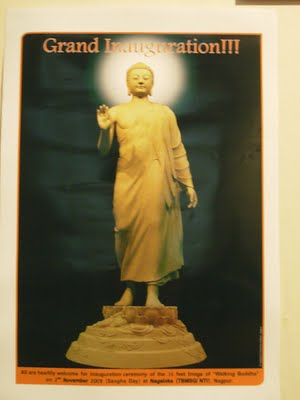 For the past two years a remarkable sculpture has been taking shape in a Taiwanese foundry: a bronze walking Buddha, no less than 10.8m high. Its creator is Wen Kwei, one of Taiwan's leading Buddhist sculptors, who has also been managing the difficult process of transportation and erection of the statue.
It has now completed the long journey to its destination: Nagaloka, the FWBO/TBMSG's training centre in Nagpur, central India. Here it will occupy the pride of place, facing the existing (but much smaller) statue of Dr. Ambedkar.
Vivekaratna, Nagaloka's Director, brings us up to date with just a few of the many adventures and difficulties that have been faced and overcome along the way. He told FWBO News -
"Finally the walking Buddha statue arrived in Nagaloka out of generosity of Taiwanese Buddhists.
"They were transported from Mumbai by road in three containers. We had difficulty to get to Nagaloka as the railway bridge is at low height and container height was more. So we unloaded with the help of crane before the bridge and then brought to Nagaloka. Our Buddhist friends at Bombay port helped a lot to get the custom & excise clearance of Buddha statue containers.
"Foundation work is in progress and we expect to be completed before 18th August.
"A team of four Engineers from Taiwan will be arriving at Nagaloka on 18th August to erect the Lotus & Buddha statue (total 12 tons in weight and cast in Brass material) on the foundation made for that purpose. The Lotus is having a diameter of 6.7m and height of 2.1m. The statue itself is 10.8m. Another team of six from Taiwan, with the chief sculptor, are scheduled to arrive in the first week of Sept to do the painting and finishing.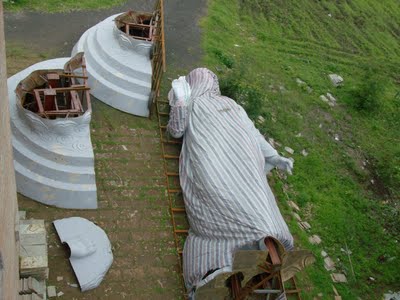 "Their target date to complete the Statue is 28th Sept.: the anniversary day of Dr. Ambedkar's Conversion to Buddhism.
"We have declared inauguration of the statue on 2nd Nov. 09, which is Sangha Day. All are heartily welcome".
with Metta.
Vivekaratna