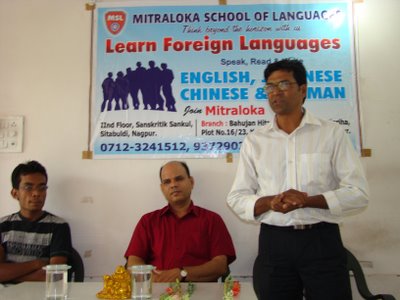 Nagaketu, Director of Mitraloka, TBMSG's School of Foreign Languages in Nagpur, Central India, writes to say -
"Mitraloka School of Foreign Languages celebrated its second anniversary on 15th June. A special get-together of all present and ex-students was organized on this occasion. As part of the celebrations there was an address from Mitraloka's founder, Dhammachari Nagaketu, plus special guests Nitin Kamble (a French language teacher) and Rohan Chahande (a Japanese and English language teacher).
"Over the past two years Mitraloka has become one of the major language training centers in central India, providing courses in multiforeign languages. For last two years at Mitraloka; various foreign languages have been taught including English, French, German, Japanese & Chinese.
"Through this teaching we are cultivating awareness about foreign languages and different cultures in the world. Hundreds of students have been benefited by learning foreign languages and thereby they have shaped their careers in different fields. Mitraloka is also help them with job placement in the global market.
"Soon we are going to start Portuguese, Arabic and Pali language classes.
"With metta, Nagaketu.
Situated in central Nagpur, Mitraloka is a fairly new - but very successful - addition to the portfolio of social and Dhamma projects run by TBMSG in India. More and more, it's clear that command of English and other foreign languages are a key to social mobility and economic advancement - crucial in the rigid caste structure of Hindu India.
Labels: India, Nagpur, Right Livelihood