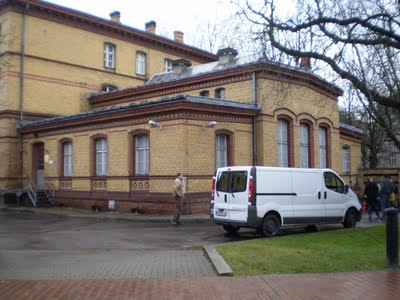 Amogharatna, chair of the FWBO's Berlin centre, reports -
"On 31st of October 2009 at our Sangha day celebrations, we launched the fundraising campaign for our new Buddhist Centre, "The NEW Buddhist Gate Berlin" (German: "das neue Buddhistische Tor Berlin").
"Cornelia and I started preparing the fundraising as early as June. Since August, a fundraising committee has been meeting on a regular basis. Our goal is to get everybody in the Sangha involved in fundraising activities, and many more besides.
"We have produced a beautiful flyer in German and English, as well as a bi-lingual fundraising website
www.buddha-berlin.de
.There are facilities for making on-line donations and a long list of ideas about how everybody can get involved.
"Of the estimated costs for the new Centre of €890,000, we already have €400,000 from donations and assets. Our aim is to collect €490.000 during the next 18 months so that we are not burdened by debts when we move into the new centre around the beginning of 2011.
"After a four-year long search, we finally signed the contract in July 2009. Our new premises are part of a local initiative involving the redevelopment of a former hospital consisting of fourteen buildings into apartments and business premises. They are situated in Berlin-Kreuzberg, a central, lively area of the city, well served by public transport and close to the attractive Landwehr canal. The space is in many ways perfectly suited to our needs and will be a suitable home for the prospering Sangha for many years to come.
"After meditating together, singer Johanna Fassbender and her band gave us a short sample of their work. Amogharatna introduced us to his vision for the new Centre and the FWBO in Berlin, and Karunada told us about the efforts of the brave team of volunteers, responsible for turning the former hospital kitchen into a radiant brand new Buddhist Centre.
"Of course the tea break was another good opportunity to enjoy a great assortment of cakes, donated for the occasion by members of the Sangha!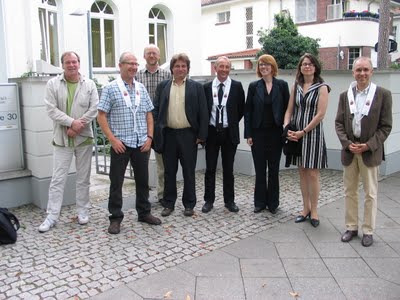 "After the tea break, Cornelia and Amogharatna launched the Fundraising campaign. In the photo you can see the rest of our team.
"The afternoon was concluded with a sevenfold Puja during which Mitras had the opportunity to re-affirm their commitment to the Buddha, Dharma, and Sangha.
"And that's how we spent Sangha day.
"If you want to contribute or help us fundraise, or just have some ideas that would be helpful for us, please don't hesitate to get into contact:
fundraising@buddha-berlin.de
"For online-donations, you can go to (UK)
www.justgiving.com/buddhistgateberlin
"Or when you live in Germany go to
www.spendenportal.de
Sadhu!
Labels: Berlin, Fundraising, Germany