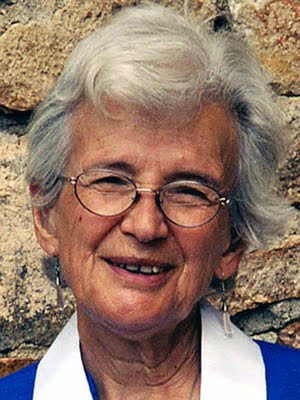 FWBO News has just received a tipoff from our Taraloka mole, who says -
"Just discovered that Sraddhapushpa has just collected her MBE at Buckingham Palace!"
Thanks, mole…! It's true -
Debrett's says so
, where we learn that the Queen has been graciously pleased, on the occasion of the Celebration of Her Majesty's Birthday, to give orders for the following appointments to the Most Excellent Order of the British Empire...
Sraddhapushpa (whose English name is Suzy Powesland) is a 79-year-old Order Member living in an FWBO women's community around the
London Buddhist Centre
, and was for many years a teacher in some of East London's roughest schools. She was nominated for the award (a Member of the British Empire)by her community, which was awarded for "voluntary service to Black and Minority Ethnic People in East London".
Sraddhapushpa featured prominently in Ed Husain's 2008 book 'The Islamist: Why I Joined Radical Islam in Britain, What I Saw Inside and Why I Left', shortlisted for both the Book Prize and Orwell Prize 2008.
To quote from Chapter 1, Ed Husain says - "Sir William Burrough primary school in Limehouse was almost an extension of my home. The teachers would often visit my parents and I remember going to Ms Powlesland's house to pick cherries in her garden. She loved her pupils so much that even her social life revolved around us. At weekends she often took us to theatres in the West End, where many of the stories we read in class came alive on stage. My particular favourite was Peter Pan. I liked his ability to do the undoable: to fly.
"Growing up in Britain in the 1980s was not easy. Looking back, I think Ms Powlesland was trying to create her own little world of goodwill and kindness for the children in her care. We grew up oblivious of the fact that large numbers of us were somehow different – we were 'Asian'.
"'Pakis! Pakis! F— off back home!' the hoodlums would shout. The National Front was at its peak in the 1980s. I can still see a gang of shaven-headed tattooed thugs standing tall above us, hurling abuse as we walked to the local library to return our books. Ms Powlesland and the other teachers raced to us, held our hands firmly, and roared at the hate-filled bigots.
"'Go away! Leave us alone,' they would bellow to taunts of 'Paki lovers' from the thugs. Little did I know then that one day I, too, would be filled with abhorrence of others..." (click here to
read the rest of the first chapter online
).
Sadhu Sraddhapushpa!
Labels: LBC, London, Social projects, women