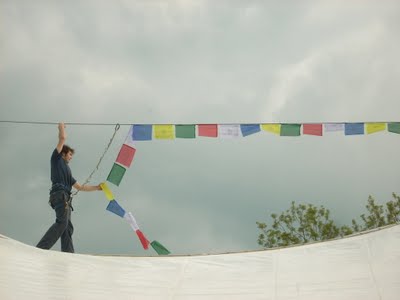 Here's an early heads-up for FWBO News' readers on a major FWBO retreat coming up next year - the second FWBO International Retreat.
Dates are Friday 28th May to Tuesday 1st June 2010, the place is Taraloka, the FWBO's retreat centre long-established on the English-Welsh border (and twice winner of the Good Retreat Guide's 'Retreat Centre of the Year'!
More details on the special retreat website
www.internationalretreat.fwbo.org
.
Vajragupta, one of the main organizers, says "The International Retreat is a collaboration between the FWBO Chairs Assembly, Buddhafield, and Taraloka. We aim to have 500 people from all over the FWBO in Europe practicing together over the Wesak weekend.
"The Friday the event starts is actually the full-moon of Wesak. This gives us the opportunity to have a large, collective celebration of Wesak in 2010. "he theme is going to be "turning arrows into flowers".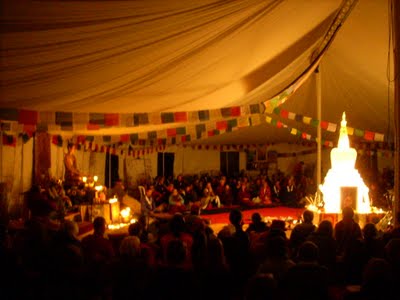 " We'll begin with the story of the Buddha's overcoming of Mara, and then explore the spiritual transformation of our own lives and the world we live in. This will involve a mixture of talks, meditation teaching, story-telling and ritual, as well as activities for children. We'll be welcoming people from all over Europe, and providing priority booking and translation facilities for those from overseas.
"The feedback from the last event was overwhelmingly positive - it gave people a great experience of practicing with the wider FWBO.
"Please get involved to make the 2010 event even more of a success".
Vajragupta
Director, FWBO Development Team
The photos are from the 2007 International Retreat: inside and outside the main shrine marquee.