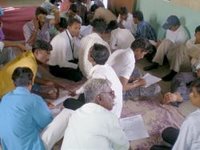 Dharmacari Satyadeep sends this report from Maharastra:
The picture shows a workshop held on 11 February for the youth in
Solapur
, Southern Maharastra. This is new initiative to help youth to develop their personality, positive attitude and confidence. Eighty girls and Boys were present from all the backgrounds. this activity seems very helpful to attract youth to the movement. So far we have offered four workshops since January 2007, which have been attended by 350 to 400 young boys & girls. We have formed a group of 20 people who are now being trained for youth work. These people will take responsibility to work among the youth in different part of Maharashtra.
Labels: Maharastra, TBMSG, Youth