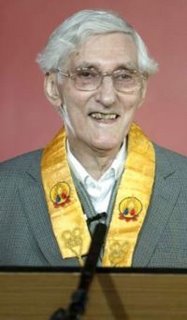 It is a rare treat these days to be able to attend a talk by Sangharakshita and it was delightful to see him at his best celebrating the 40th annivesary of the founding of the FWBO at the
Birmingham FWBO Centre
on Saturday. While obviously quite frail of body these days there was no doubt as to the sharpness of his mind. In an hour long talk - with many digressions - he only consulted his notes towards the end in order to get a list "in the right order". For some people it was their first opportunity to see Sangharaskhita in person.
His talk began with the early days of the FWBO and the spirit of the times when he was starting out forty years ago. The first meeting were held in a small basement room in Monmouth St in central London, but soon things began to expand and after a few years the developments that we now associate with the FWBO - communities and right-livelihood businesses - began to come into existence. Had he tried to start a new Buddhist movement 10 years earlier he might not have found many receptive to his ecumenical teachings, and had he arrived 10 years later he would have missed the boat - the late 1960's seem to have been the best possible time to attempt what he did. Sangharakshita remarked that the present zeitgeist seemed to be more marked by materialism and individualism. One of the regretable changes he noted was the decline of interest in rightlivelihood, noting that
Windhorse Trading
had been not only a source of considerable funds, but an important training ground for order members. The talk would not have been complete without some "teaching" and so Sangharakshita, true to form, drew our attention to Francis Bacon (the 17th century philosopher) whose
Theory of Idols
he suggested might help us to see the errors which prevent us from understanding reality. He concluded by reminding us of the
six distinctive emphases of the FWBO
.
The people attending the event had come from as far afield as Southampton and the Outer Hebrides, and the Birmingham did an excellent job of accomodating and catering for the the crowds.
Labels: Birmingham, FWBO, Sangharakshita