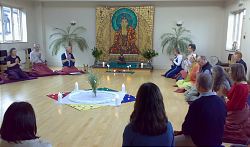 On Sunday the Brighton Buddhist Centre celebrated 40 years of the FWBO with a splendid twelve hour extravaganza, spanning all four floors of the centre in which beautiful shrines to the Five Jinas had been created.
The day began in Vairocana's realm, turning the FWBO's particular wheel of the Dharma with a series of seven-minute talks on each of the six characteristic emphases of the FWBO. Karunavira talked on ecumenicalism; Amoghavajri on work as practice; Natasha Lythgoe on the Arts; Dharmarkara on the centrality of Going for Refuge; Jo Wace on the FWBO as a unified movement; and Ratnadakini on Spiritual Friendship. This format worked very well, giving six very engaging and succinct windows on the FWBO and its distinctive nature as a Buddhist movement.
Next up was a visit to Akshobya's realm in the recently renovated Garden Shrine Room. We were treated to some of Suchitta's mirror-like wisdom through a cracking talk on the importance of study, entitled "What's the Point?" Suchitta drew our attention to an impressive array of dualities which are relevant within the realm of study such as literalism and metaphor; simplicity and complexity; doctrine and method; and knowing and not knowing, suggesting the need for a Middle Way with which to transcend these polarities. She urged us to abandon the view that study was just for those of a particular temperament, pointing out that there are many ways to study and that the process of study itself is a very good way of noticing one's temperamental tendencies and perhaps bringing them more into balance. She also emphasised that studying with others in a group can be a transformative practice in which we can really learn from and help one another.
After lunch we entered the sunny abundance of Ratnasambhava's realm where Akasati showed slides from recent years at Buddhafield, a very unique and distinctive limb of the FWBO. It was wonderful to see retreats taking place right in the midst of the elements and inspiring to witness the colourful spectacle of hundreds of people engaged in the enormous and creative rituals of the Buddhafield Festival.
Following this was a musically impressive and infectiously joyful performance from Mahasukha's Soulful Singers, which included one of Bodhivajra's rounds, "Spring" and a beautiful setting in four-part harmony by Mahasukha of the Karaniya Metta Sutta.
After all this stimulating input we headed upstairs to the main shrine room and sat before the Amitabha shrine. Dharmavajra introduced Bhante's System of Meditation and led us through a practice of the Mindfulness of Breathing. Then Dharmakara and Guhyaratna introduced and led sessions of the Metta Bhavana and the Just Sitting practice respectively.
Next we stepped into the unobstructed success of Amoghasiddhi's realm. Here we watched the latest video from the Karuna Trust entitled "On the Threshold," which was both inspiring and moving, and featured some familiar faces from the Brighton mandala. Following this was a Sevenfold Puja (pictured above: in the centre of the photo is our incredible new Shakyamuni triptych, painted by Aloka and ritually opened by Bhante last November.) The puja was dedicated to Amoghasiddhi and included the mitra ceremonies of Melanie Klein and Trisha King.
After a shared supper, those that weren't completely overwhelmed and overstimulated (and some that were!) settled down for a viewing of Kim Ki-duk's visually stunning and thought-provoking film, "Spring, Summer, Autumn, Winter… and Spring" which was a lovely way to end such a joyful and celebratory day.