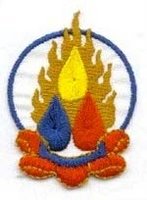 On Thursday 8th November, at the London Buddhist Centre, two ordinations took place, in a ceremony attended by family and many friends.
Julie Rankin became Kamalini (Pali, with a long second i), meaning (She who is) Rich in the qualities of the Lotus Family, or Like a pool covered with lotuses. Her private preceptor was Dhammadassin.
Diana Cliff became Kamalasiddhi (Sanskrit & Pali), meaning She who is successful, like a lotus. Her private preceptor was Srivati.
The public preceptor in both cases was Parami.
Sadhu!
Labels: LBC, Ordination