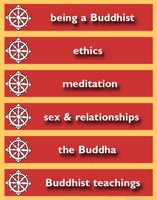 Clearvision launches their new '
Ask a Buddhist
' service for students.
Clearvision, an FWBO educational charity that provides audio-visual teaching material on Buddhism to schools, has launched its new on-line video service called '
Ask a Buddhist
'. Buddhist teachers from the FWBO (and, they plan, from other Sanghas too) give personal answers to all sorts of difficult questions posed by the many students who've visited Clearvision and the Manchester Buddhist Centre over the years. Several questions have multiple replies, indicating that Buddhists sometimes have different points of view and there is no one 'right answer' in the Buddhist tradition.
So far they've uploaded some 24 video clips in seven categories, covering such questions as -
"
What's the hardest thing about being a Buddhist?
";
"
Is it OK for Buddhists to have same-sex relationships?
";
"
What's your view on abortion?
"
and even
"
Why does the Buddha have long ears?
"!
They are inviting students to pose more questions and teachers from other Buddhist groups to submit answers. Click
here
to contact them.
This looks like a great resourse and an excellent use of the internet. Thank you Clearvision.
Labels: Clear Vision, Education, Video