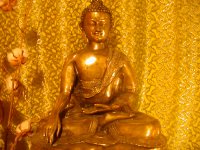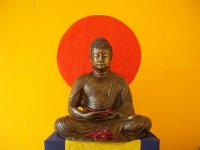 At the very end of October, on Halloween, five men and women from the Paris sangha set off by train from the Paris 'Gare du Nord' on the night train to Berlin's Ostbahnhof station. On arrival they were put up by different members of the Berlin Sangha and a long weekend followed of rich and interesting meetings and exchanges, including activities at
Buddhistisches Tor Berlin
(the Berlin Buddhist Centre) and sightseeing in this most historic city.
The highlight of their visit was undoubtedly the Berlin–Paris friendship day on Saturday, at Buddhistisches Tor. The day was led by Amogharatna, chairman of Buddhistisches Tor Berlin, and included meditations, meals and short talks on the theme of 'Going Forth' from Kalyanaprabha and Akasaraja from Berlin, and Danièle Adam and Pierrick Parigot from Paris. For Pierrick it was a last opportunity to visit as he has been invited to be ordained in New Zealand early in 2008. There was also a longer talk on 'Internationality as Practice' from Suvannavira from Paris. The day concluded with a French–German sevenfold puja with alternating verses - first one in French and then one in German, and so on.
"The weekend was very inspiring, international and spiritual; our German hosts were creative, friendly, fascinating and gemütlich (which means something like cosy, pleasant and comfortable in German)" - Sandra.
The Berlin sangha are already invited to visit Paris the same time next year. Some photos of their visit have been posted on the Berlin portion of the Flickr
FWBO Photos
site.