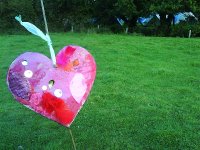 Following some months of consultation, Mahamati, the International Order Convenor of the WBO, has announced a small change to the wording of the Heart Sutra as recited in the FWBO.
The new wording is
All things are by nature void
They are not born or destroyed
Nor are they stained or pure
Nor do they wax or wane.
These replace the well-known line "all things are the primal void" and the section immediately following. A full copy of the text of the new version can be downloaded from the Resources section of FWBO News
here
.
The change was approved by Sangharakshita in order to avoid the danger of referring to "the void" i.e. making sunyata into a 'thing', while keeping the rhythm and flow of the original.
Windhorse Publications will be reprinting the English Language edition of the FWBO Puja book soon, with the new version of the Heart Sutra included.
Those of a nostalgic disposition are reminded that the 'primal void' lives on in Kavyasiddhi's beautiful rendition of the Heart Sutra – sung at last summer's International Order Convention and posted on
Videosangha
.
Labels: Order events, Translations