Two new retreat venues run by members of the Western Buddhist Order are emerging in the Spanish mountains.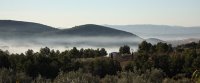 Amitavati
, which means 'full of boundless possibilities', is the home and rural retreat centre of Suratna and Vidyasri, two ordained members of the Western Buddhist Order. They 'retired' there from the UK a year ago and now offer a range of retreats in their working smallholding up in the hills near the small town of Villar-del-Arzobispo in the hinterland of Valencia, Spain.
Reflecting the special interests of Suratna and Vidyasri, their retreats include meditation retreats, shamanic journeying, drumming, painting and sculpture and working retreats. Above all, however, their retreats are designed to bring visitors into intimate contact with the land and its resources.
December saw their first working retreat, which they were delighted with – and which is bearing fruit with others thinking of buying land nearby. In addition their newest urban FWBO Centre, in Valencia, use the facilities for some weekends and for Order gatherings, and links with local people are developing with plans made for teaching meditation classes in the village when their Spanish is good enough.
Check their very beautiful website at
www.amitavati.com
which contains full details of events and travel information.
Ecodharma retreat facilities in the mountains

More remote, in altogether more wild and mountainous country, Guhyapati has been developing an 'eco-Dharma retreat centre in the hills behind Isona, some three hours from Barcelona. His work as a professional mountain guide (see
www.climbcatalunya.com
) has given him an intimate knowledge of the mountains; he has used this as a base to develop facilities for an 'ecodharma' retreat centre, which now offers long solitary retreats and has for the past two years hosted the 'Redwoods', a group of Order Members who meet annually to practice together in the context of a shared commitment to and love of the environment .
The small whitish dot on the tip of the plateau beneath the middle mountain is the retreat venue...
Labels: retreat, Right Livelihood, Spain