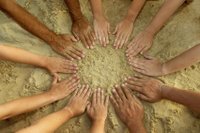 The FWBO's first International Retreat is taking place in May, at
Taraloka
, in Shropshire, UK. Vajragupta is the overall organiser and recently sent FWBO News this update – including a request for help!
"The bookings are now starting to flow in - I'm optimistic it is going to be a big event. After some hitches, the
International Retreat website
can now take on-line bookings in no less than five languages –
English
,
German
,
Spanish
,
French
, and
Dutch
. Of course people can also download the postal booking form or use the brochures which should be available at all FWBO Centres.
The programme is coming together, based round the themes of Wisdom, Absorption, and Compassion, with talks, pujas, and groups led by some of the FWBO's best teachers -
Padmavajra
,
Ratnaguna
,
Parami
,
Ratnadharini
,
Sona
,
Vidyamala
,
Maitreyi
,
Kamalasila
,
Vessantara
- with more to be arranged!
Capacity is 500 people, so book soon…
A team of volunteers is needed to set-up, run, and set-down the event. Volunteers will need to be available from Sunday 18th May and, after the event, until 28th May. Anyone interested would need to be willing to camp and work hard, including physical work – however work duties won't be so heavy as to stop you taking part and enjoying it too. There will be a retreat-like programme and teaching during the set-up. See
FWBO Jobs
for more details.
Newcomers and children welcome
The programme and teaching for the adults will be aimed predominantly at those who have been meditating and attending an FWBO Centre for at least a few months. However, anyone who'd like to bring a family member who is new to the FWBO, or who does not meditate, is welcome to, and there will be some basic meditation instruction available.
Children are welcome on the retreat. There'll be a talented and experienced crew on hand to help parents make the most of the retreat. We are not providing a crèche, but there are a variety of facilities available for children - a toddler's tent where you can take your young one to play in a safe environment, with toys and games provided; for older children there'll be arts, craft, sports, bushcraft and other activities laid-on for a couple of two-hour slots each day (one slot in the morning and one in the afternoon). In the evenings there will be storytelling and ritual suitable for both children and adults.
The retreat is free for under-3's and 3–16 year olds can attend for half-price. Check the
children's page
on the website for updates.