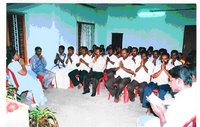 Late last year Dhammacharinis Nagasuri and Sraddhajyoti were hosted by the new TBMSG Centre in Mynagappally, in the district of Kollam Kerala, in southern India. Click
here
to read FWBO News' report of its inauguration. They were the new centre's first visitors from outside the State and the small sangha there made the most of the opportunity - with some 40 people coming for the different functions through the day. The day featured two talks by the two visitors, one in English and one in Hindi, both translated into the local language Malayalam, both focusing on the theme of the "Importance of Five Precepts in Daily Life".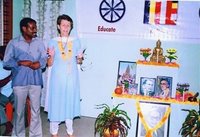 Nagasuri is from Australia, but currently living in India and working for the
Arya Tara Mahila Trust
, – unique in that it is pioneering Dharma work in India entirely run by women for women. Sraddhajyoti is an Indian Dhammacharini from Mumbai and was ordained in 2002. They were touring South India as a follow-up to a more
high-profile tour
last year led by Subhuti.
The day was hosted by Binoj Babu and friends, who make up the group of mitras running the Centre (there are no Order Members in residence), all of whom are recent graduates of the TBMSG training institute at Nagaloka, in Nagpur, a thousand miles north in central India.
Labels: Dharmaduta, India, Kerala, women