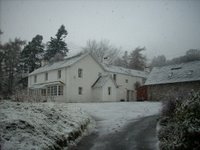 Last month some 40 Chairmen and Chairwomen from most of the FWBO's European Centres gathered at Dhanakosa for the twice-yearly week-long meeting of the European Chairs Assembly. The meeting is a place where those taking responsibility for our Buddhist centres can come together for practice and friendship, besides discussing a very wide range of topics. This report, by Lokabandhu of the FWBO Development Team, aims to give a flavour of the meeting and to note some of the topics discussed.
To begin with, there were a good number of people to say farewell to, and an equal number of 'hellos'. It's a tradition of the meeting to give both these a good deal of time so that people can be properly welcomed when they arrive and properly rejoiced-in when they leave. It was noteworthy that six of the seven new faces at the meeting were women; the present overall ratio among the Chairs is approx 2:1 men:women. As usual, most of the FWBO Development Team, who are employed by the European Chairs Assembly, were also there.
The meeting got off to an adventurous start due to snowstorms: the coach from Glasgow was not willing to risk the last few miles along the lochside in the dark and we had to be ferried into Dhanakosa in a series of cars.
The topics covered in the many discussions included –
A thought-provoking paper by Dhammarati with his thoughts on how to ensure coherence across the many facets of the F/WBO. He has posted this on his
blog
.
Labels: FWBO, FWBO Development Team