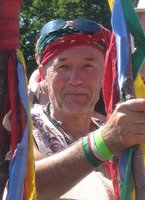 The
Buddhafield Festival
has for some years been the FWBO's largest event outside India. It's been held every year since 1996 and has gone from strength to strength, quietly building a loyal following almost entirely by word of mouth. This year they plan to move to a new site – the third since the Festival began – and increase the size slightly, to 3,000.
By happy coincidence they've also hit the UK's Sunday papers in a way they never have before, with top reviews in the Times' list of '
12 best boutique festivals
'; the Guardian's '
20 festivals you'll never have heard of
'; and the finally the Independent (not online so far as we know).
As the Times eloquently puts it, "
'Are you sure?' you cry. 'A festival without alcohol, or drugs, or even – whisper it – dogs?' But yes, as its name might suggest, Buddhafield isn't your normal bunch of loons, sorted for Es and whizz and standing in a field with 20,000 others
."
Or, as the Guardian says, "
This couldn't be more different from your run-of-the-mill festival
."
Each year Buddhafield aims to learn that little bit better how to create a genuine festival that occupies a respected place in the calendar of UK alternative festivals and which genuinely follows the Buddhist precepts. This year, on their
Festival Volunteers Page
, they say -
"Buddhafield 2008 is organised by practising Buddhists, attempting to exemplify the qualities of infinite Wisdom, Compassion and Positive Energy and to create an environment where others can experience a taste of these qualities. To help us we take on 5 training principles and as contributors to Buddhafield 2008 we ask you to join us in trying to make these training principles a way of life on the site.
"The 5 principles are -
"To Try Not to Take Life or Cause Harm
Cafes on the site are Vegetarian/Vegan. Buddhafield has a strong ecological thread.
"To Try Not to take the Not Given
We try to be aware of what we take from others in all its aspects, goods, time, energy...
"To Try Not to Indulge in Sexual Misconduct
We try not to use sexuality to exploit or coerce others.
"To Try Not to Lie
We try to be honest in our communication.
"To Try Not to Take Intoxicants
We have a policy of discouraging the consumption of intoxicants on the site. We need clear minds to put these principles into practice!
The Buddhafield Festival this year will be held near Taunton, from July 16-20th. Over 600 tickets are given away to the many crews and performers needed to run the Festival, if you're interested in volunteering or contributing in any way please visit the
Festival Volunteers Page
of the Buddhafield website where you'll find application forms and descriptions of what's needed.
Labels: Buddhafield, festival, UK